All that's fresh and zesty, flavors and fragrances from local herbs and your favorite bits borrowed from Chinese and Tibetan cuisines is what makes the food of the North-East stand-out from all that's cooking around it. Even the most elaborate of delicacies are prepared with mildest spices and simpler cooking styles, and most often with the freshest catch from your own pond along with sips of local brews.
If you are interested in a culinary adventure, here are must try dishes from the North-East that you absolutely must try out: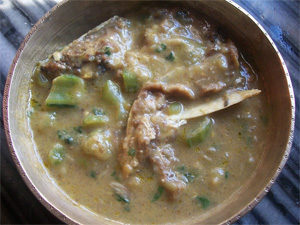 Khar (Assam)
A traditional meal in Assam is never complete without the presence of Khar. This is a completely off beat dish prepared out of the unusual combination of red rice, beaten pulses and raw papaya along with traditional Assamese spices. The interesting thing is that the ingredients are all mixed together and then filtered through a pipe stuffed with desiccated banana ash. The fragrance of dried banana imparts a flavor that is wholesome as well as exotic. This dish is a full bodied recipe that can be cooked for lunch. Being gluten free this is a safe option for diabetics and health conscious people.
Sanpiau (Mizoram)
This is a very popular Mizo snack sold in the streets, and served at home. Prepared with rice porridge, it is served with fresh coriander paste, spring onions, crushed black pepper, zesty fish sauce and finely powdered rice.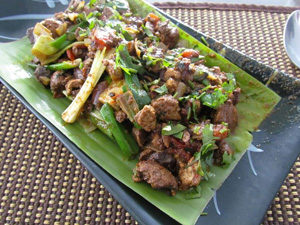 Smoked Pork (Nagaland)
Nagaland is famous for its pork, smoked the traditional way. It is crispy on the outside and juicy on the inside. It can be tossed dry with other ingredients or prepared into a curry with local flavours. Smoked pork with Bamboo Shootaccelerates the taste of the dish and brings out an intense smokiness. Pork withAkhuni ( piquant fermented soya bean ) or Anishi (fermented yam leaves) are other popular preparations. These dishes do not use too many spices. The only spicy accent is from Raja Mirchi: the spiciest chilli in the world. The perfectly cooked pork goes well with steamed rice. It can be enjoyed with a piquant dry fish chutney and boiled veggies on the side .
Bamboo Steamed Fish (Nagaland)
This dish is a speciality from Nagaland. The first bite might taste plain, but eventually you can savour the subtle hint of bamboo flavour. Fresh spices include Raja Mirchi. used in the dish enhances its flavour. Bamboo Steamed Fish is best enjoyed with steamed rice.
Chikhvi (Tripura)
This dish is native to the state of Tripura. Made with stir fried bamboo shoots and sliced pork, this dish has a perfect balance of smokiness and lusciousness. The pork is cooked beautifully with a lit bit of moisture in every bite.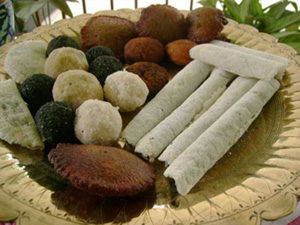 Pitha (Assam)
Pitha is a snack that is consumed quite frequently in Assam. Locals have sweet Pitha for breakfast while salted ones are coated in light butter and tea. Rice mixed with light spices and salt/sugar is molded into thin tubes and stuffed inside a hollow stem of bamboo. The Pitha is then fried/roasted/barbequed inside the hollow bamboo stem and this gives the pitha an exotic flavor. The pitha can be made sweet or savory and most locals prefer the sweet version. One can taste this mesmerizing snack with beaten curd and molasses.
Tenga Fish (Assam)
Tenga is a fish dish which is both sour and deliciously fragrant in taste. This fish preparation is made by locally caught fish sourced from the rivers of Assam. The addition of plenty of sun dried tomatoes, lemon rind and green chilies adds a zing to this light and appetizing dish. Usually the fish is fried in mustard oil and then curried with spinach and bottle gourd. Like most Assamese side dishes Tenga is enjoyed best with plain white rice.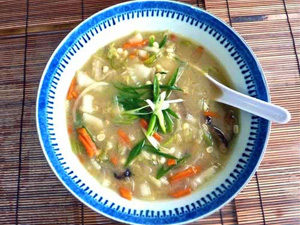 Zan (Arunachal Pradesh)
Arunachal Pradesh is a land of exotic tastes and smells and one of the best examples of its culinary diversity is Zanwhich is a wonderfully spicy porridge. Zan is a highly customizable dish which can be enhanced with a lot of green vegetables and smoked meat. The locally sourced spices added to the dish bring a sweet and spicy aroma to the porridge. This dish is quite low in calories and easy to digest too which makes it popular amongst the tourist circuit.
Iromba (Manipur)
Here is a dish that acts well as a snack as well as a main dish. Iromba is quite a healthy and nutritious dish and is quite versatile too. The flavors of Iromba vary according to the season as seasonal vegetables and locally available spices are added here. There are two versions of Iromba; one with Tokningkok garnishing and another with Mayang Maton Garnish. Fermented fish, finely chopped vegetables and fiery red chilly make this dish a sure shot winner. The Iromba pairs delightfully well both with Rice as well as millet and jowar flat breads.
Bamboo Shoot Fry (Meghalaya)
If you are wondering about the relative absence of quality vegetarian dishes in North East cuisine then the famous Bamboo Shoot Fry is here to appease your fears. A one foot long tender shoot of Bamboo is scaled and cut into tiny pieces. The Baking Soda which goes into this dish neutralizes any acidity that may be present in the Bamboo. Slow cooked and then garnished with Fenugreek as well as dry red chilies; this dish is good to have as a side dish with traditional molasses tea or local Meghalayan liquor.
Gyathuk (Sikkim)
If you like having Thupka then you will be charmed by the Gyathuk as well. The base of Gyathuk just like Thukpa is egg noodle or plain noodles. The dish is flavored with a lot of Sikkimese spices and Ajinamoto. There is a vegetarian version of Gyathuk which is very healthy and filled with seasonally available vegetables and shreds of ice berg lettuce. The meat version of Gyathuk tastes wonderfully well with either pork or lamb meat. The chicken version of the Gyathuk is less popular but equally delicious. This dish is usually consumed with chunks of warm bread that is dipped into it.
Steamed Local Grouper (Assam)
If you are looking for delicious, sumptuous and cheap fishes then Assam steamed local grouper is something that you must try. One of the most popular dishes among the tourists, this steamed grouper is packed full of sourness from tamarind, spicy chilly and thick sauce.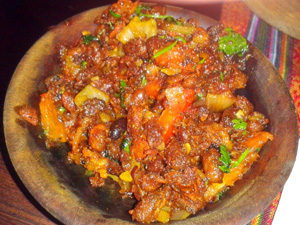 Kinema Curry (Sikkim)
This Nepali delicacy is a curry is made of fermented soya bean. This spicy treat is best enjoyed with a serving of steamed rice.
Chhurpi (Sikkim)
There are two types of chhurpis — hard and soft. The hard chhurpi is consumed like a toffee, kept in the mouth till it softens and eventually chewing it. The soft chhurpi is used to make savoury dishes, soups, and even pickles.