In a country known for its lack of sanitation – an issue Prime Minister Shri Narendra Modi has formed a national programme to address – this humble village is a model of cleanliness.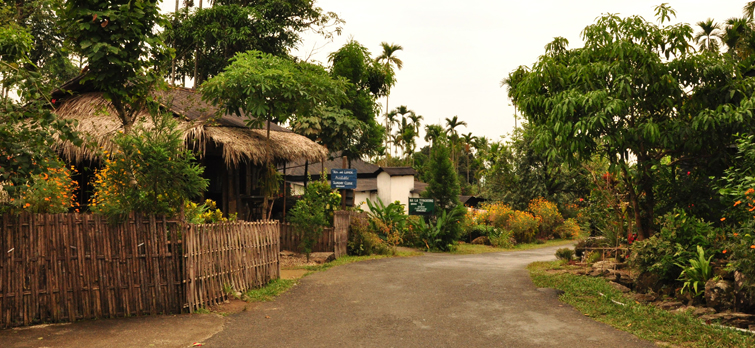 Mawlynnong is a village in the East Khasi Hills district of the Meghalaya state, India.[1] It is famous for its cleanliness and natural attraction. Mawlynnong was awarded the prestigious tag of 'Cleanest Village in Asia' in 2003 by Discover India Magazine. [2]
"Mawlynnong" also referred to as God's Own Garden. Nested amidst of lush green forest of East Khasi Hills district of the Meghalaya state. There is no other place quite like Mawlynnong and we are so thrilled to just see the photographs of the village that not only matched up but are just beyond our expectations. You can actually feel the quite and clean surroundings of 'Mawlynnong' village.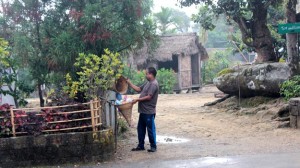 The captivating view of the forests, bamboo houses and lush green surrounding will keep you hypnotize for days and months. It has so much of warmth in itself that one can easily adapt to the surroundings here and might even think of settling down here.
Apart from being the cleanest village, it is also a pretty village where the streets are bordered with thatched khasi huts and the gardens are full of colorful flowers.
The travel magazine Discover India declared the village as the cleanest in Asia in 2003, and the cleanest in India in 2005.
Thinks to Do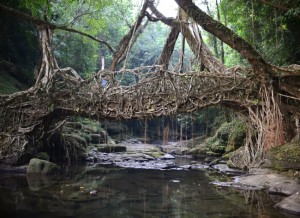 Trekking
Mawlynnong is a destination for nature lovers. However adventure lovers won't be disappointed either. Mawlynnong offers an array of trekking options. The nature walk through the living bridges is simple but too adventurous. A place that lures every visitor.
Sky Walk
An 80 feet high 'machan' or observatory. Once at the top , you get to see a spellbinding view of the forest and plains of Bangladesh.
Explore the Village
A walk around the village will help you understand how a small initiative from a small community can help in keeping our environment clean and green. Magical waterfalls paving the way to small streams and abundance of flowering orchids dangling from the trees and hedges beautifies the overall ambiance. The roads and pathways are squeaky clean. There are bins everywhere to make sure you don't litter this abode.
Getting There
There are regular flights from all metros to Guwahati. From here Mawlynnong is 190km away. You can break the journey at Shillong, 118km from the airport.
Accommodation
Mawlynnong has limited accommodation to offer its visitors. All they have is a cozy tree house in the village. People visiting Mawlynnong need to book well in advance and inform the village headman.